DT-CAOS Five seveN Optic Mount
From CAOS Comes Order!
Optic Mount for use with the Dorin Technologies DT-CAOS Five seveN Red Dot mounting system.
*Requires DT-CAOS optic mounting system sold separately. Please read below for compatibility. Professional Installation Recommended.
What's in the package:
Your choice of DT-CAOS compatible mounting plate
Hardware (not including optic mounting screws)
Current DT-CAOS Mounting Plate Options:
CAOS-11 uses the Trijicon RMR footprint. For mounting Trijicon RMR, Trijicon SRO, Holosun 407C, Holosun 507C, Holosun 508T, and more (NOT compatible with Trijicon RMR®cc)
CAOS-12 uses the Docter/Noblex footprint. For mounting Burris FastFire 2, Burris FastFire 3, Docter/Noblex, Vortex Viper, Vortex Venom, and more
CAOS-13 uses the Leupold DeltaPoint Pro footprint.
CAOS-14 uses the Shield RMS footprint
CAOS-15 uses the Holosun 507k footprint
CAOS-16uses the Trijicon RMRcc footprint
*Please check with your optic manufacturer to see what mounting standard (footprint) they use for mounting.
FN Five seveN Compatibility:
DT-CAOS is compatible with the FN Five seveN MK2.
DT-CAOS is not compatible with the first four FN Five seveN generations.
The easiest way to identify if your Five seveN is compatible is to look for charging serrations on the front of your factory slide. Please see the chart below. Only the FN Five seveN MK2 has charging serrations on the front of the factory slide cover. In contrast, the original Five seveN, tactical, IOM and USG all have a smooth surface on the front of the factory slide cover.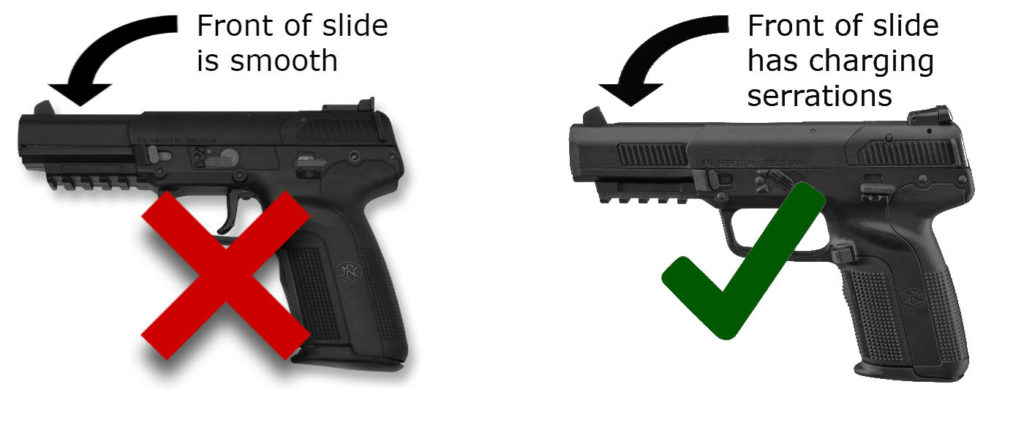 Click Here to learn more about the DT-CAOS by Dorin Technologies by visiting dorintech.com.